Christopher Madden, master engraver and fine art painter and instructor is setting up a surprise demo and just for us. Deborah Hoeper is discussing her minimalistic Petra series. Two Resident Griffin Art Center Studio Artists are participating! Tony Mel is presenting his inscrutable abstracts, and Donna Quesada is discussing her impressionistic works in clay, ink and paint.
Additional guest artists from The Griffin Art Center, the Blue Elephant Resident Studios, the NOMA and Gallery East Galleries may drop in and join the panel. Music could occur. Who knows who will show up? Stop by for the activities and selection of fine art and crafts made just for you!
Wait! A Silent Auction to benefit the Frederick Arts Council will also be set up all weekend. Get over here, get in your bids and get your gifts!
More about the panel artists:
Christopher Madden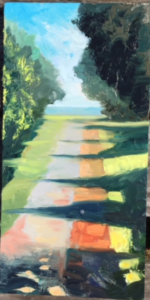 Christopher is a fine art painter and master engraver from Maryland who studied at the Columbus College of Art and Design and graduated from Ohio State University.
"As a young man I was discouraged from pursuing a career in art- there was no 'living' to be made as an artist … however, (he became a) …  highly trained Banknote engraver." Madden relates "an artist is not what one does- an artist is an artist from the inside out. A creative mind … (will) process our perceptions in a uniquely visual ways.
I have just finished building a beautiful new art studio (Rushing River Art Studio) out in Augusta West Virginia … retreats and workshops are in the planning stages."
Madden has taught open figure studio classes for many years.
Deborah Hoeper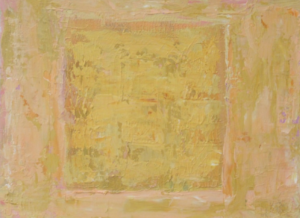 Local Maryland artist Deborah is a member of the Artists' Gallery of Ellicott City, the Baltimore Watercolor Society and has studio at Passageways.
Hoeper paints landscapes which are more abstract than realistic, working with subtle change color rather than value. Works are based on emotional reaction as opposed to representational subject matter. Her challenge is to her allude to place; a mysterious scene where the viewer becomes involved in the creation of atmospheric narrative. Hoeper says, "A successful painting … glows with color and light." Her Petra series is based a excursion to the archeological site in Jordan. On Petra she relates "I decided to do a series … using photos … I replicated the textures and colors …  'Portal' … shows an ancient window carved on the exterior … those ancient peoples just carved the outside of a structure on the canyon walls … these ancient people and their intent remains a mystery, but a fascinating one, none the less."
Tony Mel

Tony is a Maryland fine art painter and Resident artist at The Griffin Art Center who studied at Slippery Rock University, Indiana State University, The Academy of Finer Arts in Bratislava Slovakia and has an MFA from Terre Haute.
After a long break from making art, Mel has spent a year "exploring new languages … (and) discovered new elements; gathered from memories, day to day symbols, simple plays on words, pop images and dreams… like dialogues with myself of what it would be like to eat breakfast with Duchamp."
Mel is intrigued by how the meaning of word or visual marks changes when it is placed next to another element. He relates "I love the … layered, the ghost-like quality … one word, one mark becomes more powerful." His marks build and interrelate with other marks with a poetic push to find new experiences in his work. Mel relates that "the push and pull between minimal and maximal; destroying and recreating" creates continual changing content in his work.
Donna Quesda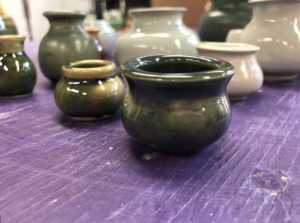 Donna is a painter, potter, sculptor, printmaker and owner of Wildflower Studio. As a native Washingtonian, she was schooled in the rich offerings of theater arts and dance opportunities available in the D.C. area. To this day, Quesada's work is inspired by her culturally rich childhood experience. Her work is realistic in style and she explores subjects through clay, watercolor, pen and ink and acrylic mediums. Sources of inspiration include weekly attendance in local open figure studio sessions, involvement in regional theater, and by taking trips along the Eastern U.S. Shores and States.
Currently she is exploring sourcing local clay bodies and repurposing glaze formulas that extenuate her minimalistic miniature pottery. Quesada is a Resident Artist at The Griffin Art Center. Much of her work is fired at Frederick Community College.
Talk Sunday Dec 17, 2pm – 4pm
Silent Auction & Gallery Hours 
Friday Dec 15, 4pm – 8pm
Saturday Dec 16, 12pm – 8pm
Sunday Dec 17, 12pm – 4pm
See you there!
Gallery East
4W 5th Street
Frederick, MD 21701
301-514-2645